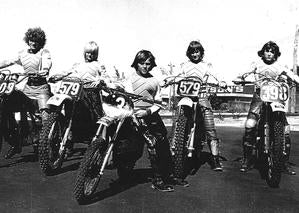 THE CULLYS TEAM
Established in 1976, originally in Osborne Park, Cully's stands as Western Australia's longest serving Yamaha dealer, being at the forefront of motorcycle sales, service, parts and accessories. Brian Cull, the first-generation dealer principal of Cully's, established the foundations that the store has built upon over 40 years and led to being awarded a host of industry accolades. In 1980 the store was relocated to its current location on Wanneroo Road, Balcatta to better service the northern suburbs.

Second-generation dealer principal Strett Cull is now at the helm of the family-run business; his influence seeing Cully's Yamaha continually adapt to the evolving direction of the industry. Strett has brought together a team with a broad cross-section of knowledge, experience and enthusiasm for all things motorcycling.
Meet the Cullys Race team
John Darroch

#45
Instagram: @Johndarroch45
Facebook: @Johndarroch
Name: John Darroch
Nickname: Johnny D
Number: 45
First bike: PeeWee 50.
Favourite bike: YZF426
What motivates you: The feeling of riding a dirt bike.
Rider that inspires you: David Bailey.
What you love about dirt bikes: The lifelong mates you make and the fulfilment of improvement.
Most memorable race: Timor International.
Best thing about riding for the team: I'd be here all day!
Advice for other riders: Always keep it fun and dont be afraid to ask advice from faster riders.

Ben Shingler

#129
Instagram: @shingles129

Name: Ben Shingler
Nickname : Shingy
Number : 129
First Bike: Kawasaki KX80
Fav Food: Pasta and glass of red wine
Fav Bike: My Cullys Yamaha YZ 450 of course the thing rips
Best thing about the team is being treated like im factory at 40 and the whole team atmosphere at the races makes for a fun day
Hardest thing about racing is finding the time to fit riding/training into family life
Motivation: is to keep on riding as long as possible staying fit and heathy. It would be awesome to race against my kids one day
Fav rider at the moment is Ken Roczen his style is so enjoyable to watch
I love riding dirt bikes once you ride it's hard to find a sport that comes close to the feeling. It's an awesome family sport that my kids have got involved in where we can all ride and compete together on the same day/ weekend.


Ayden Bridgeford

#46
Instagram: @Aydenbridgeford
Facebook: @Aydenbridgeford
Name: Ayden Bridgeford
Nickname: Bridgy
Number: 46
First bike: PeeWee 50
Favourite bike: YZ250F
What motivates you: Getting better and improving on things i struggle on.
Rider that inspires you: Eli Tomac
What you love about dirt bikes: Being able to hang out and ride with mates on the weekend.
Most memorable race: East Timor International 207 (awesome experience).
Best thing about riding for the team: There's lots of good things but the main thing would be the set up on race days. Being able to wash your bike, having equiptment to work on your bike in between races and people around you to help out on race days makes it a lot easier!
Advice for other riders: Have fun with it and stick at it.