Regular price
Sale price
$399.99
Unit price
per
Size
7
Contact us for availability
In Store
Available now for delivery or store pickup, during store hours.
Warehouse
Available for delivery or store pickup during store hours in 2-5 days time.
Contact us for availability
We are currently out of stock for this product.
View full details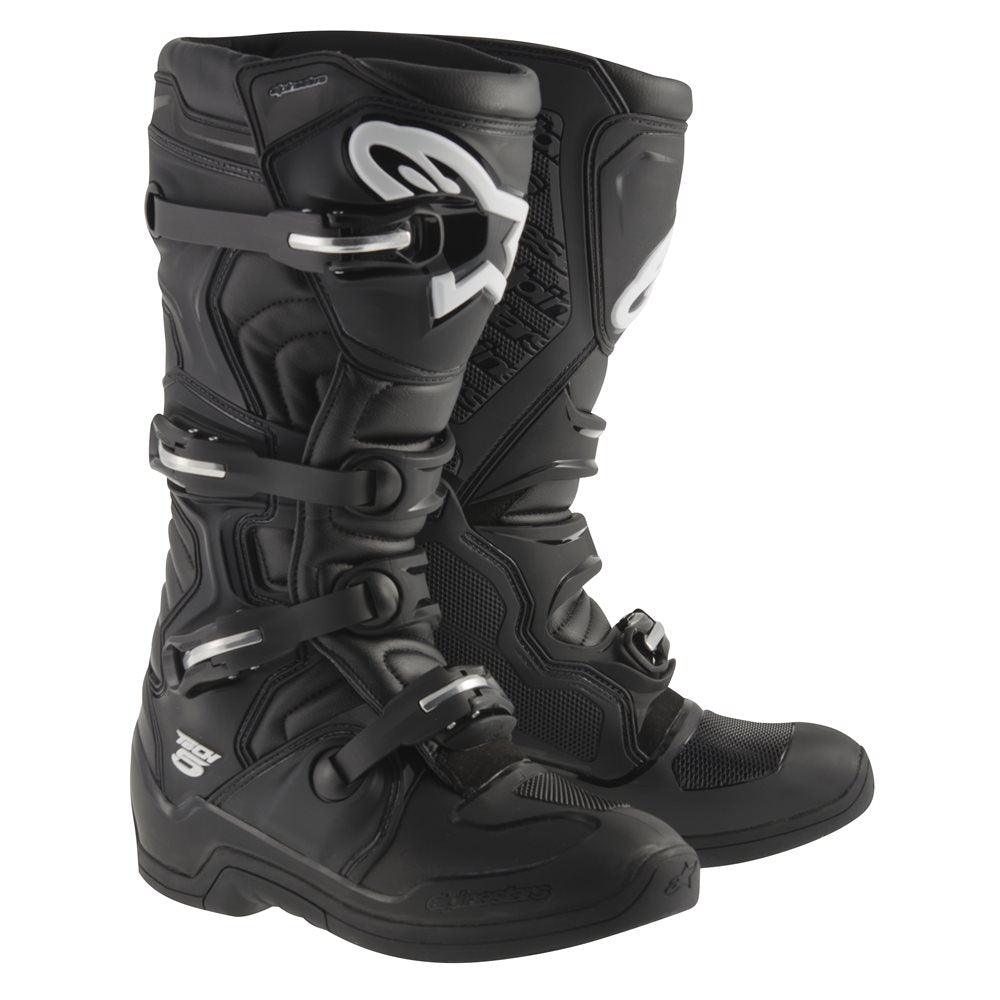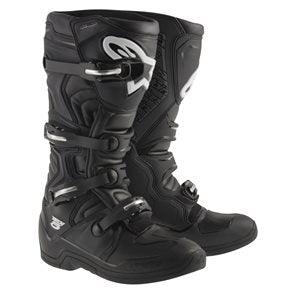 ALPINESTAR TECH 5 - BLACK
Coming in the wake of the hugely successful and iconic Tech 10 and Tech 7 the new Tech 5 is an advanced multi-material, multi-panel construction boot that further strengthens Alpinestars line-up of class-leading motocross and off-road boots. Incorporating an innovative microfiber chassis, which is extremely durable and lightweight, a medial biomechanical pivot system for excellent levels of support and stability and extended accordion flex zones, the Tech 5 affords performance fit and high levels of comfort and durability.
Upper constructed from innovative, abrasion-resistant microfiber with synthetic polymer on toe box. Main microfiber material offers high levels of water-resistance, durability and improved weight-saving. Material ensures consistent fit for long term usage and is easy to maintain and clean.
Contoured advanced polymer core structure envelopes upper boot for structural integrity and abrasion resistance while allowing excellent levels of controlled flex.
Medial-facing biomechanical pivot system links lower and upper parts of the boot and gives front and rear flexibility and structural support. Both the inward-facing upper and lower panels are constructed from specifically formulated polymer with grip sculpture patterning for maximum contact with bike and improved abrasion resistance.
Tech 5 boot is CE certified to EN 13634:2010.
Anatomically profiled, high modulus polymer shin plate for superior impact and abrasion resistance. The contoured shin plate allows for greater range of fitment and features a Velcro® adjustable panel for a personalized and secure closure.
Innovative one-piece TPU injected dual compound foot shell with excellent impact and abrasion resistance and unmatched levels of safety. This shell is reinforced by a metal shank inside and toe reinforcement co-injected in harder compound.
The TPU heel patch connected with shell and lateral/medial TPU parts, offers protection and support.
Soft poly-foam surrounded the ankles and collar offer shock absorbing performance, plus full interior textile lining for comfort.
Redesigned instep and Achilles accordion flex zones made from lightweight microfiber for superior comfort, control and support.
Rear TPR gaiter on top of the TPU calf protector gives protection and comfort.
Innovative buckle closure system incorporates polymer and fiberglass buckle arms and high-impact aluminum bridge closures for durability and weight-saving.
Buckle system features memory and a quick release/locking system with self-aligning design for easy, precise closure and improved riding performance and security. All buckles are easily replaceable.
The TPU buckle straps are ergonomically profiled to promote high levels of front flexion.
Exclusive dual compound sole is seamlessly integrated to the multi-density foot base structure with built-in support. The sole offers superior durability, grip and feel while riding. The sole is replaceable.
Replaceable anatomic EVA footbed with textile lining on top
*The product images shown are for illustration purposes only and may not be an exact representations of the product. Cully's Yamaha reserve the right to change product images and specifications at anytime without notice. Additional products may be displayed within image to illustrate the product offered for sale