Regular price
$0.00
Sale price
$46.25
Unit price
per
Warehouse
In Store
Available now for delivery or store pickup, during store hours.
Warehouse
Available for delivery or store pickup during store hours in 2-5 days time.
Contact us for availability
We are currently out of stock for this product.
View full details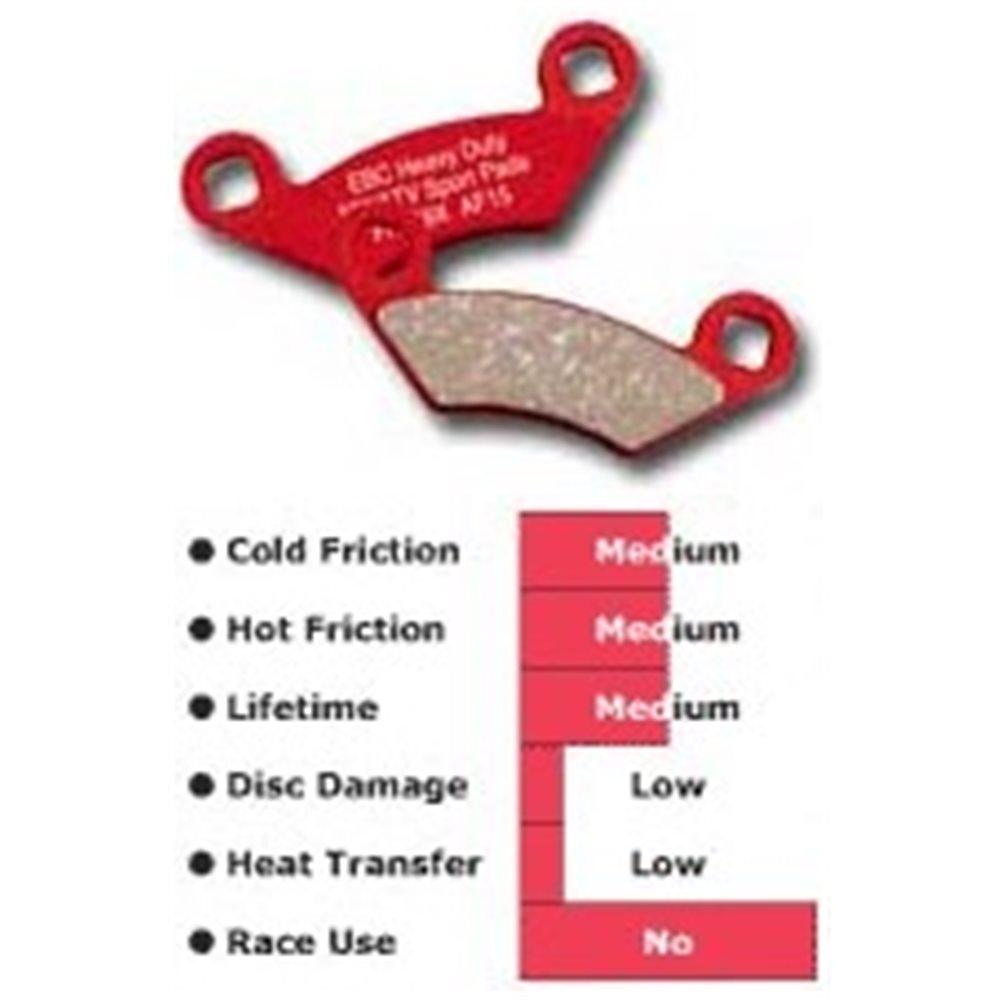 EBC BRAKE PADS- FA165TT (Left)
FITS YFZ450 Hypersports 04-08 (Front)(L)/ YFZ450R Hypersports 09-17 (Front)(L)/ Raptor 700 07-14 (Front)(L)/ Rhino 700 2009 (Front+Rear)(L)/ Rhino 700 11-13 (Front+Rear)(L)/ Viking 16 (Rear)(L)
One name always comes to mind when talking about the best in off road riders and our old friend and long-time EBC outlet in his shops Malcolm Smith is an avid supporter of the EBC Brakes TT Brakes range and has used them for years in Trail and Enduro riding. Also, multi time champ Randy Hawkins has been a long-time user of EBC carbon TT pads.

Although the TT Brakes will not outlast a sintered copper brake pad it has the unique benefit of lower heat generation and transfer. When riding off road in fast dry conditions such a feature is a major benefit. In our years of listening to the faster riders we have seen cases where the rear brake rotor can be glowing red in night rides which shows just how hot trail braking can get a rotor. Stopping this getting to the bikes hydraulics is greatly assisted by using a Carbon-based pad such as the TT pad.
EBC TT Brakes are coded red in paint finish and is equally happy on an ATV or a Moto X or Enduro bike and is also used in ATV Sport riding. However we caution riders using these pads in ATV use especially on rear rotors as wear life may be shorter than sintered pads originally installed in the original unit build. With the lower price point compared to sintered, millions of riders still choose the carbon pads.
This is our bestselling sport ATV pad! For several years now this successful carbon graphite formula has been the choice of top enduro and moto-x riders for certain conditions around the world. The main advantage of this type of material is its lack of heat generation or conduction, which keeps both the rotor and
caliper cool. Top Enduro and Hare Scrambles USA riders prefer this material for fast and dry riding conditions. The material is also very useable for standard sport ATV useage. Also, TUV tested and KBA approved for street use on enduro bikes.
*Image for display purposes only*
*The product images shown are for illustration purposes only and may not be an exact representations of the product. Cullys Yamaha reserve the right to change product images and specifications at anytime without notice. Additional products may be displayed within image to illustrate the product offered for sale
YAMAHA
Raptor 700
2007 - 2014
YAMAHA
Rhino 700
2009 - 2013
YAMAHA
Viking
2016 - 2018
YAMAHA
YFZ450 Hypersports
2004 - 2008
YAMAHA
YFZ450R Hypersports
2009 - 2017