In Store
In Store
Available now for delivery or store pickup, during store hours.
Warehouse
Available for delivery or store pickup during store hours in 2-5 days time.
Contact us for availability
We are currently out of stock for this product.
View full details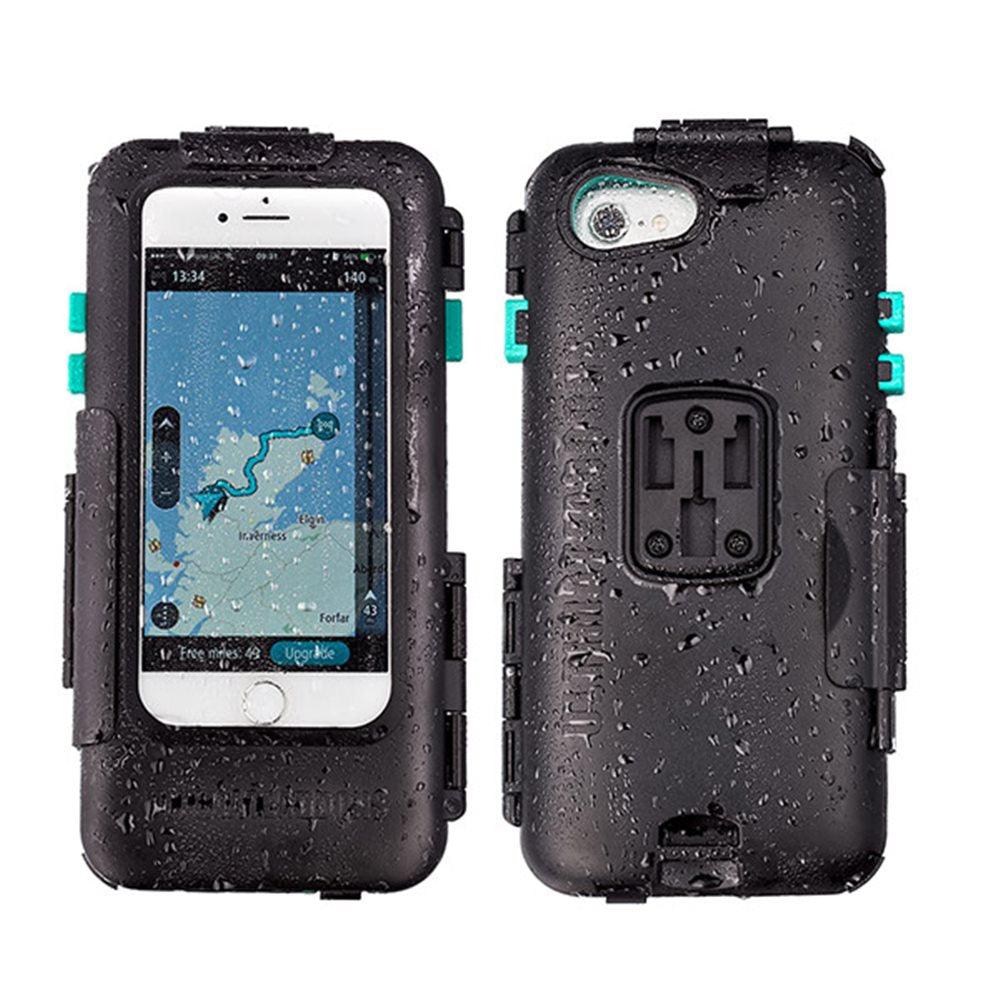 PRODUCT DESCRIPTION
This case is designed specifically for the Apple iPhone 6 Plus/7 Plus to help keep it safe, protected and dust free while using it outdoors. Designed with the Ultimateaddons® 3 prong connection system on the back, this case can be used with a wide range of Ultimateaddons® mounting attachments.
The outer shell of this case is made with hard durable plastic. The inside has a customised rubber waterproof insert with cut outs for most major phone functions. On the top there is access to the on/off switch. To the left there are the volume buttons and to the base there is access to the headphone socket with an improved rubber cap to cover socket while not in use and the charging port for our hard wire charging cable (please note that only the Ultimateaddons® hardwire cable will fit this case, other cables may not fit).
On the front and rear there are transparent cut outs for the camera, speaker and earpiece functions, ideal for using the camera function to take photo's or videos while the phone is protected in it's case.
The case locks with 2 super strong easy accessible clips and 3 new pressure clips this gives the case a water-tight seal around the Apple iPhone with the touch screen is still usable. The case comes with a screen protector and useful lanyard.
This case has been rated to waterproof rating IPX5, higher than previous cases. Care should be taken to ensure that the case is locked properly and plugs are correctly inserted before use. This product should not be submerged in water, it has been designed to help protect your Apple iPhone from dust and weather conditions allowing it to be safely used outdoors.
Ideal case solution for using the iPhone outdoors
Helps keep the iPhone secure & waterproof (rated to IPX5 - please check instructions included)
Protects your iPhone from dust and dirt
Tough hard case design has new strong easy access clips to lock iPhone inside case
Touch screen can still be used while in case
Internal dimensions of case designed specifically to fit the iPhone 6 Plus/7 Plus depending on the part number chosen
Rubber insert helps reduce shock if dropped or bumped
New & improved covers for headphone and charger port, ensuring water tightness when not in use
Designed to allow Ultimateaddons® hard wire charger cable to fit inside the case, available to buy separately from our shop
Case has a 3 prong mounting system on back of case allowing it to be mounted to Ultimateaddons® 1 and 3 prong attachments
Embossed Ultimateaddons® logo on case
Access to headphone, volume buttons & phone function button
Use your iPhone's excellent camera while still in case, ideal for photos & video clips
Listen to music through the device's speaker / make calls while still in case
Ideal for work & outdoor pursuits
Includes lanyard to hold mount around neck
Includes 1 x screen protector
Ultimateaddons® brand
*PICTURES ARE FOR ILLUSTRATION PURPOSES ONLY.
*The product images shown are for illustration purposes only and may not be an exact representations of the product. Cully's Yamaha reserve the right to change product images and specifications at anytime without notice. Additional products may be displayed within image to illustrate the product offered for sale